Media Release
17 Jun 2016
Carlson Rezidor joins hands with development investors, IFC and CDC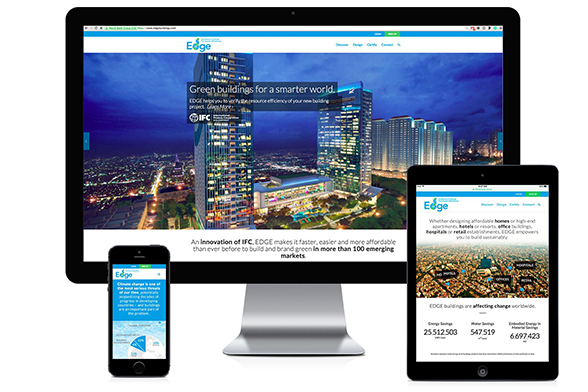 Carlson Rezidor Hotel Group is proud to announce its partnership with IFC, a member of the World Bank Group that focuses on private sector development, to promote the design and construction of green buildings in emerging markets.
The Radisson Blu Hotel, Accra Airport is the first hotel in Africa to receive IFC's EDGE green building certification. CDC Group, the UK development finance institution, is a major investor in the larger real estate development and played a key role in the certification. Actis, a leading investor in growth markets, developed "The Exchange" where this hotel is located, alongside Mabani Holdings. The site was awarded the certification by achieving 30% water savings, 25% energy savings and 28% less embodied energy .
EDGE encourages resource-efficient buildings by demonstrating the most cost-effective ways to reduce resource intensity early in the design process. EDGE includes powerful and free eco-modelling software that makes the business case for using less energy, water and embodied energy in materials.
Ritu Kumar, Director of Environment and Social Responsibility at CDC Group said: "Investing in green buildings is not only essential for a sustainable future, but also makes good business sense. It is vital that the growth in real estate on the African continent is environmentally and financially sustainable and contributes to reaching COP 21 targets. We're proud to have supported the Radisson Blu reach EDGE certification at The Exchange, our real estate investment in Accra."
Through the partnership, Carlson Rezidor will use the EDGE eco-analysis software for all of its future hotel projects in Eastern Europe, the Middle East and Africa. As 40% of the world's carbon emissions are generated through the construction and operation of buildings, designing green hotels supports the industry's responsibility to meet COP21 targets. The collaboration also strengthens Carlson Rezidor's long-term commitment to Think Planet and sustainable growth.
Elie Younes, Executive Vice President & Chief Development Officer at Rezidor, said: "EDGE is a very valuable tool to support our growth strategy in emerging markets. It will be a catalyst to securing financing from hotel investors as it measures a building's future performance, which reduces risk. EDGE also helps us to promote good corporate citizenship and leverage our sustainable hotel brands."
"Our landmark partnership with Carlson Rezidor marks an important step forward to greening the growing hotel business in Africa and other emerging markets," said Prashant Kapoor, Principal Green Buildings Specialist for IFC and the inventor of EDGE. "IFC hopes that other leaders in the hotel industry will follow Carlson Rezidor's example and consider adopting EDGE. Only by responding to the growing awareness of environmentally concerned customers can we meet their expectations while building a more profitable and sustainable future for all."
For further information, please contact:
Inge Huijbrechts, VP Responsible Business, inge.huijbrechts@carlsonrezidor.com
About Carlson Rezidor Hotel Group
Carlson Rezidor Hotel Group is one of the world's largest and most dynamic hotel groups and includes 1,400 hotels in operation and under development with more than 220,000 rooms and a footprint spanning 115 countries and territories. The Carlson Rezidor portfolio includes a powerful set of global brands: Quorvus Collection, Radisson Blu®, Radisson®, Radisson RED, Park Plaza®, Park Inn® by Radisson and Country Inns & Suites By CarlsonSM. In most hotels, guests can benefit from Club CarlsonSM, one of the 2015 – 2016 "Top Three Hotel Rewards Programs" as ranked by U.S. News and World Report. Carlson Rezidor Hotel Group and its brands employ 90,000 people worldwide and is headquartered in Minneapolis, Minn., and Brussels, Belgium. For more information, visit www.carlsonrezidor.com and follow on Twitter @carlsonrezidor and linkedin.com/company/2364.
About EDGE
An innovation of IFC, EDGE helps property developers to build and brand green in a fast, easy and affordable way. EDGE is supported by free software that encourages solutions to reduce energy, water and the energy used to make building materials by at least 20 percent, which is the standard for EDGE certification. The program has been generously supported by the following donors: Austria, Canada, Denmark, ESMAP, EU, Finland, GEF, Japan and Switzerland. For more information, visit www.edgebuildings.com.
About CDC Group
CDC is the UK government-owned development finance institution that uses its own balance sheet to invest in the developing countries of Africa and South Asia. CDC's mission is to support the building of businesses throughout Africa and South Asia that create jobs and make a lasting difference to people's lives in some of the world's poorest places.<

CDC provides capital in all its forms, including equity, debt, mezzanine and guarantees, and this capital is typically used to fund growth. This capital is provided directly and through fund managers that are aligned with its aims. It has net assets of £3.4bn.
For more information, visit www.cdcgroup.com.