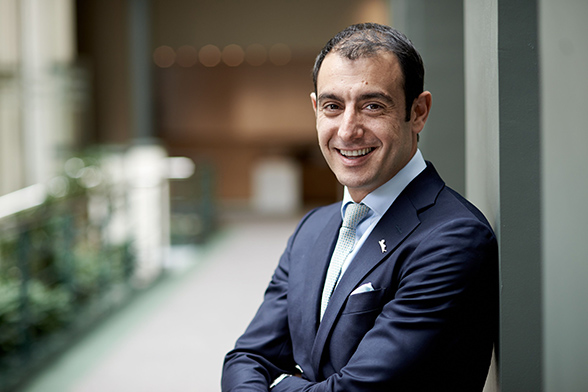 Rezidor, one of the most dynamic hotel companies worldwide and a member of the Carlson Rezidor Hotel Group, announces the promotion of Elie Younes to Executive Vice President & Chief Development Officer. Younes, who served as the group's Senior Vice President & Head of Group Development since December 2012, is responsible for Rezidor's ambitious growth strategy across Europe, the Middle East and Africa (EMEA). He is based in Brussels and reports directly to President & CEO Wolfgang M. Neumann.
"Elie's deep knowledge of the international hospitality industry, his creative hands-on approach and his close relationships to our owners are key drivers of Rezidor's business development and strongly support the delivery of our margin enhancing objectives formulated in our turnaround programme Route 2015", commented Neumann.
Rezidor's long-term growth strategy targets an asset-light, profitable and sustainable growth with a specific focus on emerging markets and selected key countries. The group is the leading international hotel operator in Russia/CIS & Baltics, the biggest international hospitality player in Scandinavia, and has the largest pipeline of hotels and rooms under development on the African continent. Rezidor recently also extended its strategic alliance "Afrinord" with four Nordic Development Funds to provide sliver equity in support of key projects in Africa. In Saudi-Arabia, one of the Middle East's top growth markets, Rezidor has signed a country development agreement for more than 30 properties in the Kingdom.
"We are now focussed on executing our growth stratagem – with the objective of optimising our shareholder value and that of our partners. Our priorities are to further strengthen our core brands Radisson Blu and Park Inn by Radisson in both mature and emerging markets, and to unlock additional value through our new brands Radisson Red and Quorvus Collection", said Younes. "Open, transparent and responsible relationships with our owners remain the key ingredients of our success. And wherever we are present, we will continue to make a difference through our commitment to Responsible Business – we create jobs and actively contribute to the communities we operate in", ended Younes.
Younes, a Lebanese national and UK citizen, conducted studies internationally at universities such as Notre Dame (Lebanon), Cornell (US), IMHI/Essec (France), Insead (France) and London City (UK). He began his career in managerial roles in Lebanon before joining HVS International in London in 2001 where he quickly progressed to the position of Director. Six years later, he moved to Starwood Hotels as Director (and then Senior Director) of Acquisitions & Development EMEA. From 2009 to 2010 he was Hilton's Vice President Development for the Middle East before moving on to Rezidor's Regional Office in Dubai as Vice President Business Development. Since 2012, he is based at the group's Corporate Support Office in Brussels, and leads an international development team across continents. Elie Younes enjoys travelling, martial arts and the simple things in life.
For further media information please contact:
Christiane Reiter, Senior Director Corporate Communication, Christiane.Reiter@rezidor.com
Renu Snehi, Senior Director Corporate Communication, Renu.Snehi@rezidor.com
About The Rezidor Hotel Group:
The Rezidor Hotel Group is one of the most dynamic hotel companies in the world and a member of the Carlson Rezidor Hotel Group. The group features a portfolio of 430+ hotels in operation and under development with 95,600+ rooms in 73 countries.
Rezidor operates the core brands Radisson Blu and Park Inn by Radisson in Europe, the Middle East and Africa (EMEA),along with the Club Carlson loyalty programme for frequent hotel guests. In early 2014 and together with Carlson, Rezidor has launched the new brands Radisson Red (lifestyle select) and Quorvus Collection (luxury). Rezidor has an industry-leading Responsible Business Programme and was awarded one the World's Most Ethical Companies by the US think tank Ethisphere.
In November 2006, Rezidor was listed on the Stockholm Stock Exchange. Carlson, a privately held global hospitality and travel company, based in Minneapolis (USA), is the majority shareholder.
The corporate support office of The Rezidor Hotel Group is based in Brussels, Belgium.
www.rezidor.com