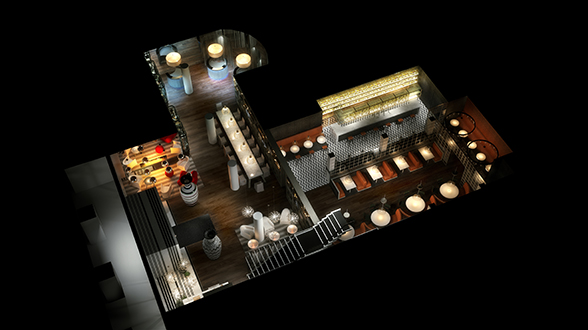 Stylish New Bar in the Heart of the City
Epicurean, a stylish new bar on George IV Bridge is set to open its doors in October 2016. Located on the ground floor of G&V Royal Mile Hotel Edinburgh, Epicurean will create a new social hub for the bustling city.
With an upbeat vibe creating an inviting and vibrant atmosphere for city dwellers and guests alike, Epicurean will serve aromatic infusions and colorful cocktails using home grown flowers and herbs from the hotel's EvoGro hydroponic. The cocktail menu will take guests on a Scotsman's journey of Botanical Europe
The chic and vibrant bar will provide a true taste of Scotland with a fantastic selection of Scottish spirits and Malts in addition to having some of the best mixologists in town shaking and stirring up the finest cocktails. A selection of Scottish and artisanal Mediterranean spirits, craft beers and wines from select small producer vineyards will also be on offer.
Epicurean will serve an all-day dining menu with Mediterranean snacks and an extensive mocktail list made with hand pressed homemade juices.
In addition to opening Epicurean, The Quorvus Collection's G&V hotel will be fully refurbishing its ground-floor creating an inviting new lobby and reception. Cakes and pastries made fresh daily, inspired by the EvoGro, will be available there throughout the day and local florist Snapdragon will be making its new home in the lobby.
Daily fresh flowers will be available to buy and visitors will be able to book florist masterclasses, complimented with Epicurean cocktails.
Epicurean Opening Hours:
Sun – Wed: 10am – midnight
Thu – Sat: 10am – 1am
Afternoon Tea: Daily 2:30pm – 5:30pm
- ENDS -
For further press information or to arrange a review please contact one of the team at Grifco PR on 020 7385 7090 or email Flora Beaumont flora@grifcopr.com and Laura Critoph laura@grifcopr.com
About Quorvus Collection
Quorvus Collection is a new generation of expertly curated luxury hotels inspired by the lifestyle and sensibilities of the contemporary global traveler. Individual and inspiring, each property within the collection offers a distinguished guest experience and an invitation to immerse oneself in the best a location can offer. The collection currently includes G & V Royal Mile Hotel Edinburgh, Hormuz Grand Hotel, Muscat and Symphony Style Hotel Kuwait. Each hotel is unique and has different architecture, ambiance and design. Quorvus Collection plans to grow to include an array of historic landmark properties, contemporary residences, classic boutiques and urban retreats.
Quorvus Collection is a part of Carlson Rezidor Hotel Group which also includes Radisson Blu®, Radisson®, Radisson RED, Park Plaza®, Park Inn® by Radisson and Country Inns & Suites By CarlsonSM. For more information visit, www.quorvuscollection.com
About G&V Royal Mile Hotel
G&V Royal Mile Hotel is design-led, five-star, lifestyle hotel located in the heart of the Edinburgh's Old Town just steps from Edinburgh Castle, Grass Market, The Royal Mile, The Museum of Scotland and The Scottish National Gallery. 136 beautiful and bold rooms and nine suites that balance style with comfort have been designed by leading Scottish artists and designers. The interiors throughout the hotel are stylish and playful with a kaleidoscope of colourful rooms. Exceptional dining is located in award-winning Italian restaurant Cucina while a chic and vibrant bar provides a true taste of Scotland. G&V is also home to one of the city's best spas with pampering Eve Lom and Aromatherapy Associates treatments. The hotel also has an on-site fitness centre. G&V is part of the Quorvus Collection.