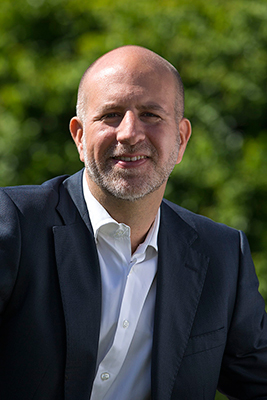 Carlson Rezidor Hotel Group, one of the world's largest and most dynamic hotel groups, is proud to announce that Niklas Schlappkohl, Senior Director of e-Commerce, has been elected as the new Chair of HSMAI Europe Digital Marketing Advisory Board. He served as a member of the Digital Marketing Advisory Board for three years prior to his election.
Schlappkohl joined Carlson Rezidor Hotel Group in 2012 and has extensive experience in online branding and development of new e-commerce business channels. He leads a team responsible for all e-commerce and website activities for the Radisson Blu, Park Inn by Radisson and Quorvus Collection brands.
"Keeping up-to-date with the ever changing digital landscape of the hospitality business is paramount to our group's strategy. We are focused on optimizing the most impactful developments in digital marketing to enhance and advance our guest experience and influence them to choose our brand and hotel channels over other online distribution venues. I am very proud to be appointed the Chair of a reputed organization like HSMAI, and look forward to contributing to the future online strategy in the hospitality industry in Europe and around the world," says Niklas Schlappkohl.
HSMAI is a global organization of sales and marketing professionals, representing all segments of the hospitality industry. With a strong focus on education, HSMAI has become the industry champion in identifying and communicating trends in the hospitality industry while operating as a leading voice for both hospitality and sales and marketing management disciplines, as well as connecting its members with customers.
#
About Carlson Rezidor Hotel Group
Carlson Rezidor Hotel Group is one of the world's largest and most dynamic hotel groups and includes more than 1,370 hotels in operation and under development with180,000 rooms and a footprint spanning 110 countries and territories. The Carlson Rezidor portfolio includes a powerful set of global brands: Quorvus Collection, Radisson Blu®, Radisson®, Radisson Red, Park Plaza®, Park Inn® by Radisson and Country Inns & Suites By CarlsonSM. In most hotels, guests can benefit from Club CarlsonSM, one of the most rewarding loyalty programs. Carlson Rezidor Hotel Group and its brands employ 85,000 people worldwide and is headquartered in Minneapolis, Minn., and Brussels, Belgium. For more information, visit www.carlsonrezidor.com.
For more information, please contact:
Alexandra Lindvik, Area Director of PR & Communications Nordic
Alexandra.Lindvik@carlsonrezidor.com
Keum Roling, Corporate Brand & Communication Manager
Keum.Roling@carlsonrezidor.com